Does the science support evolution or does the overwhelming evidence point to God as the creator.
Because these subjects are so detailed and take so much space, we have decided to post a much more entertaining and informative format, that of video, so just sit back and enjoy.  We have kept each section fairly short.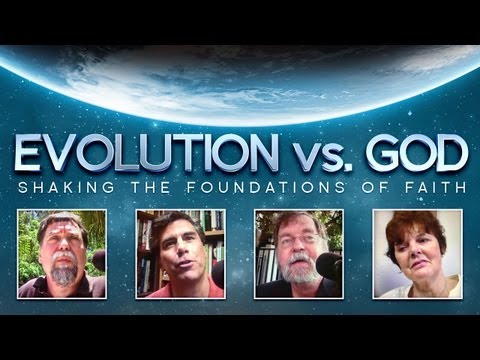 During the past century, much of the world has accepted the theory of Evolution as fact. Yet the molecules-to-man theory has no direct evidence to support it at all. This film provides overwhelming evidence in favor of Creation. The theory of Evolution has been applied to most scientific fields and this film exposes the blind speculation and evolutionary bias in three areas of science: Cosmology, Chemistry and Biology. Did the Solar System evolve out of the Big Bang? Can chemical compounds spontaneously evolve into life? Does evolution explain the great variety of life on Earth? This visually rich production reveals strong evidence that the universe and all life were created by a supernatural being, and that the God of the Bible is that Creator. The Bible is the only holy book in the world that is scientifically accurate. In addition, scientific foreknowledge demonstrates that the Bible is truly the Word of God. Features widely-traveled Creationist speaker, Roger Oakland, who makes the issues easy-to-understand for laypeople. Various scientific experts share evidence and proofs.
 Professor Richard Lewontin, an evolutionary biologist and geneticist, reveals the reason evolutionists are so against Intelligent Design—regardless of whether or not the facts support it:
"We take the side of science in spite of the patent absurdity of some of its constructs, in spite of its failure to fulfill many of its extravagant promises of health and life, in spite of the tolerance of the scientific community for unsubstantiated just-so stories, because we have a prior commitment, a commitment to materialism. It is not that the methods and institutions of science somehow compel us to accept a material explanation of the phenomenal world, but, on the contrary, that we are forced by our a priori adherence to material causes to create an apparatus of investigation and a set of concepts that produce material explanations, no matter how counter-intuitive, no matter how mystifying to the uninitiated. Moreover, that materialism is an absolute, for we cannot allow a Divine Foot in the door." ("Billions and billions of demons," The New York Review, emphasis in original)
The reason evolutionists stubbornly hold to their absurd beliefs, even though they are unsubstantiated, is that they "cannot allow a Divine Foot in the door." I have news for Mr. Lewontin. It is too late. God is in the house.